GiveMeApps
Reviews
---
Evensi Android App Review
Jul 6th 2016 at 03:45am Reviewed by

Harold Everton
Ever try to plan the perfect outing for you and your significant other? How about for a first date? How about for a group of friends or family? If you're like some people I know, you might wait until the very last minute to crack open the latest magazine (we have "Time Out" here in New York) to peruse through event listings just hoping to find something entertaining that would start at the time of your liking and that would take place nearby. The usual result is usually a tumultous night, partially due to lack of choices (and of course poor preparation on your behalf).
See Also: Linchecker (Android)
Evensi makes a strong attempt at changing this. With 40 Million events (yes, you read that right) all over the world searchable by convenient and descriptive category tags along with location, you literally have no excuse to have a great time every night (or day) of the week!
Using Evensi requires signing up. This can be done using your Google+ or Facebook logins. Thankfully, an option to sign up the traditional way using an email address is offered, for those who don't feel comfortable linking their Evensi account to social media. Once you're signed up, the start screen appears. On the top of the screen are filter options. You can narrow searches down by date, specific cities (all cities are indexed for fast searches) or event category. Filtering by category is a powerful tool. Main categories include Music, Culture, Food, Fairs, Nightlife, Sports and Leisure.
Sell Apps And Keep 100% Of Your Profits! Join GiveMeApps Today!
Things get more interesting when you select specific categories. Sub tags appear helping you to filter further. In some cases, there are dozens of tags. For example, under Good, you'll find Ice Cream, International, Tastings, Slow Food, Sweets and many more. When you finally select the tags you want (more than one can be selected), those items will appear. With each category we selected, dozens of events showed up for each day.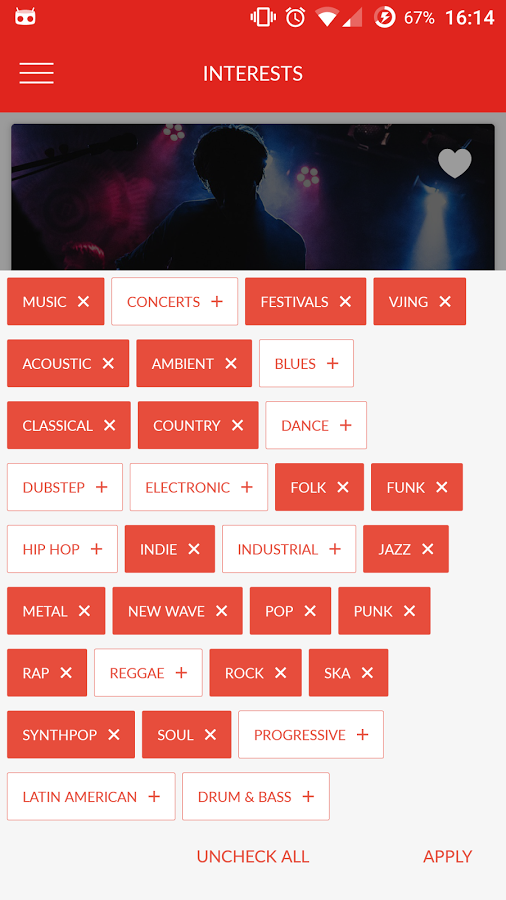 Evensi Lets You Narrow Your Searches With Tags
Along with the events, their tags are displayed along with the distance from you, time it begins and more event-specific information. We're betting that this had a lot to do with us being in major cities. Whenever we changed the location to a different major city, we were still amazed at how many events showed up. You'd spend all day reading through many different magazines or events website to come up with all of the content included in Evensi.
The main menu located at the top left corner allows you to use a map to show where events are located in any given area, access a favorites and saved events section, create events, as well as to find other users. Yep, you got that right. Evensi is also a social network in its own right.
See Also: Whataplace (Android)
You will find many uses for Evensi. For us, it's being able to make last minute plans on the fly. With 40 Million events included, it's hard to not find something to do. With dozens of categories and tags, finding exactly what you want, where you want and when you want it could not be any easier. Whether you're a serial dater, love to hang out with friends or family or be completely spontaneous with your plans, Evensi has to potential will help you have the time of your life.
Like This Review? Chat About It And More In Our GiveMeApps Community!