GiveMeApps
Reviews
---
Joy Vegas Slots Android App Review
Dec 19th 2016 at 04:48am Reviewed by

GiveMeApps
We've reviewed quite a few Casino games in the past and they all have a common theme, "bring Las Vegas to you" (in one form or another). While the entire physical experience of Vegas cannot be replicated in an app, the feeling of excitement everytime you play a game of slots or blackjack can. Joy Vegas Slots does just this. Here, you get a boatload of slot machine styled games packed with big wins, chat amenities and the ambience you'd expect on the casino floor.
See Also: Pharoah's Golden Way Deluxe (iOS)
When you open the app, you are prompted to log in through Facebook or as a guest. Logging in through the former gives you VIP credentials which includes bigger payouts and the ability to compete with friends. Log in as a guest and you still get to enjoy most of what the game has to offer, but forget about keeping track of your accomplishments after you close.
See Also: Perfect Poker (Android)
Once you're in, you end up in the lobby and get to choose from several rooms. This is analogous to walking into the Taj Mahal Casino and choosing from several areas of the slots floor. Coming back to the lobby from a floor can result in a bunch of neat surprises like free spins on a Wheel Of Fortune like wheel for "cash prizes" in the forms of coins which you can use for later slot shenanigans.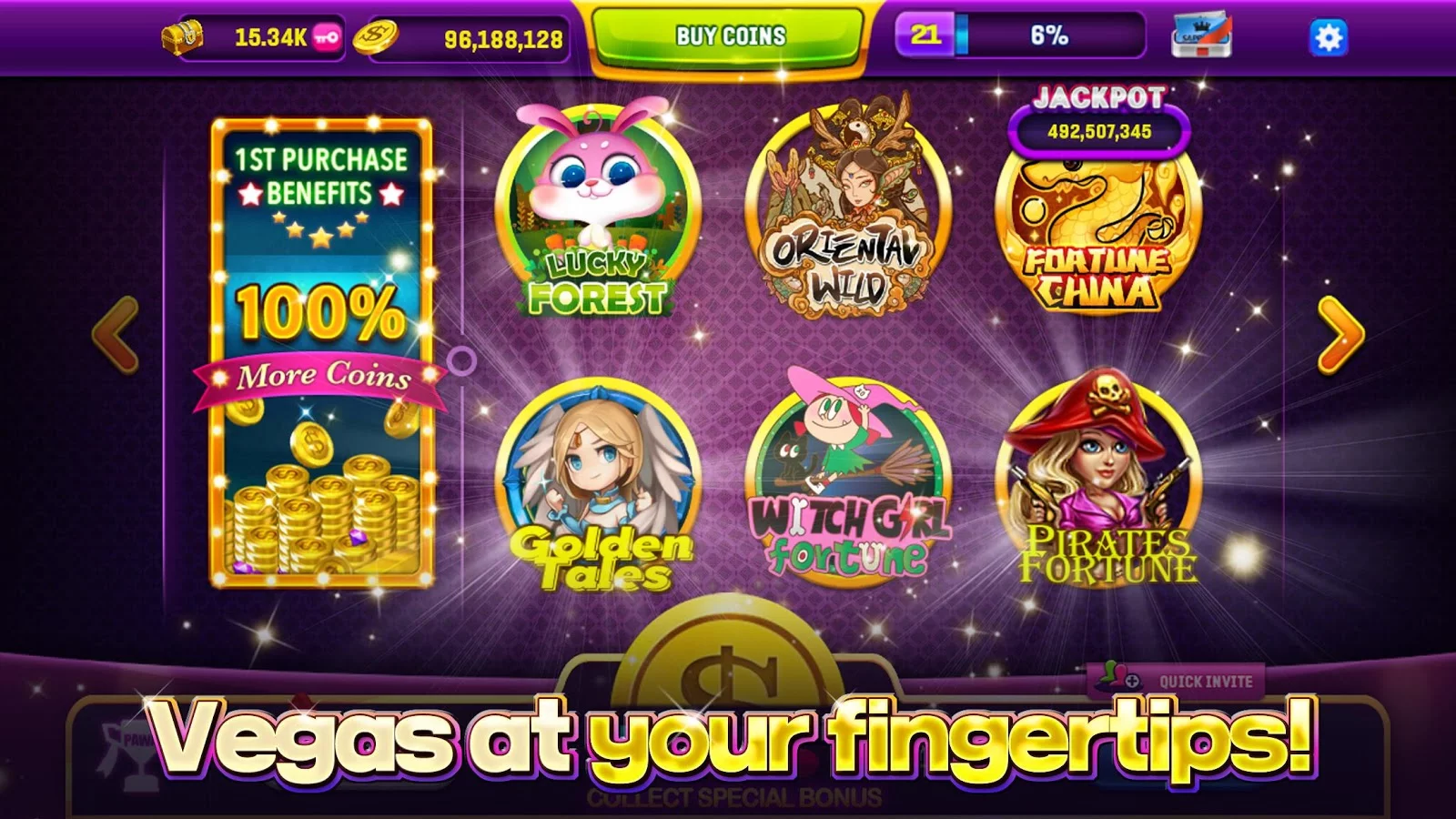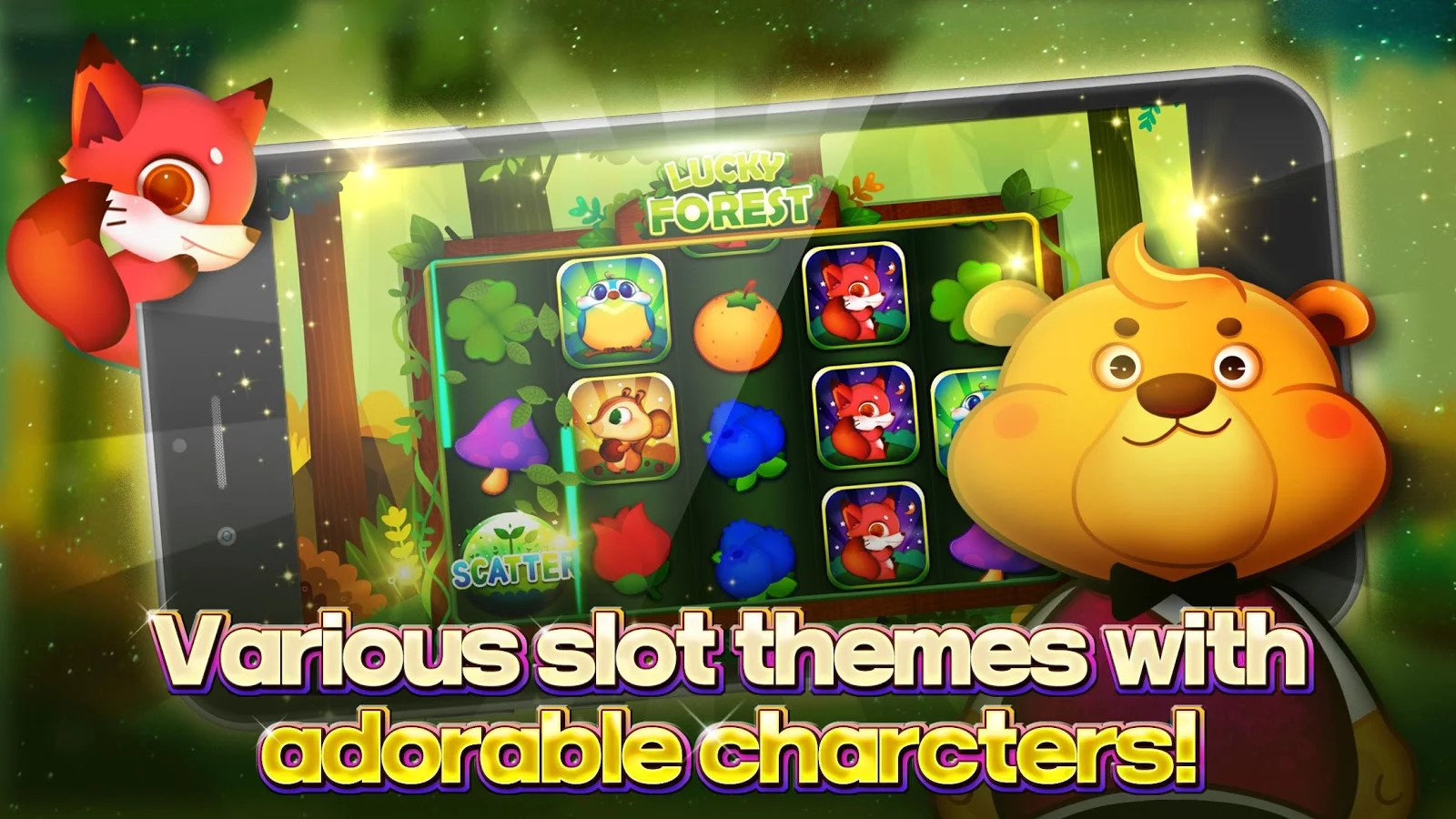 Joy Vegas Slots Gives You A Plethora Of Themes And Mega Payouts
The rooms available are Panda Jones, Sweet Land, Fairys Of Seasons (this is how it is spelled), Rich Girls, Fortune China and Gold Rush. We checked out Sweet Land and Fortune China. Sweet Land uses delicious looking sweets and candies on its slots. Here, line matches remove symbols and new symbols drop. Matches of course win bonus games. Fortune China is similar, but with your stereotypical Chinese theme (shamisen music with an 80s era pop beat).
See Also: Slingo Surpreme (iOS)
Slots have five lines. You have the option of maxing out your bet, doing manual spins or putting the machine on auto pilot with a maximum 200 straight spins (yes you read that correctly). You start out with a modest number of coins (in the thousands). Of course you can increase that number with successful spins, through bonuses and not surprisingly, through in app purchases. At the top of the screen there is an icon titled "Surprise Deal". There you can acquire anywhere from $20,000 to $118,000 worth of coins for $1.99 - $9.99 respectively.
See Also: Casino Jack (iOS)
A Main Menu button on the top right of the screen gives access to settings, language, Joy Vegas's Facebook page, a FAQ and coupons. A FAQ is great, but an actual walk through tutorial would've been nice. The great thing is if you've played mobile casino games, you can pretty much find your way around. Still with all that is available, an animated tutorial would have been a better bet.
Sell Apps And Keep 100% Of Your Profits
There is little not to like about Joy Vegas Slots. Unlike other Casino games that try to be too much, Joy Vegas is all about the slots. You get great graphics and background music, straight forward chat facilities, well designed themes and nice faux betting options. Logging in through Facebook gives you the entire meal with tournaments and more. If you have that casino itch but want to be easy on your pockets, the Joy Vegas Slots might be the next best thing.
Like This Review? Chat About It And More In Our GiveMeApps Community!