GiveMeApps
Reviews
---
Call My Photo Lite iPhone/iPad App Review
Jan 17th 2017 at 01:15am by GiveMeApps
If you hate sorting or endlessly scrolling through the hundreds of contact you've amassed over the years in your device (you are a very important person right?), then a newly released easy to use solution may just be what you've been looking for and enough to get excited about. Rather then swiping text on your screen until your fingers turn red, you could simply just tap on person's pic and have your iPhone dial them automatically.
See Also: Face Dial (iPhone/iPad)
Call My Photo Lite does just this. Starting with an empty address book, you can add contacts one by one. Not much information is required. Simply enter the contact's number, then name and then add their pic. Pics come from those already present in your gallery. From there, you can choose to have their name and number displayed over their picture. This information is overlayed much like text is on any generic snapchat story. You can toggle this on and off per contact. A nice touch, you can hide information for some and not for others. Your choice.
See Also: Who Texting (Android)
Once this is all set up, all of the pictures show up on the main screen vertically with one entry per row. You can scroll through your contacts and as mentioned earlier, tap on their pic to dial. Ending or cancelling a call returns you to the main screen of the app.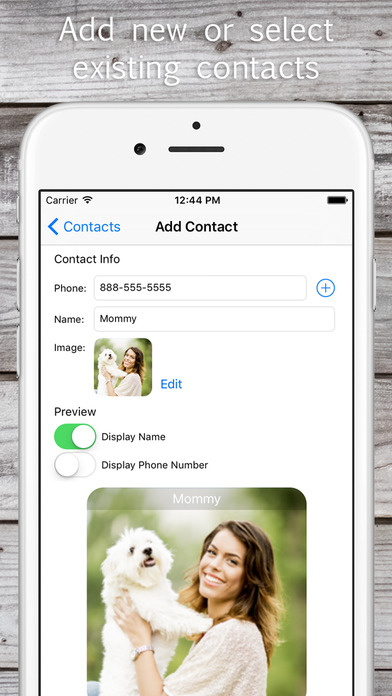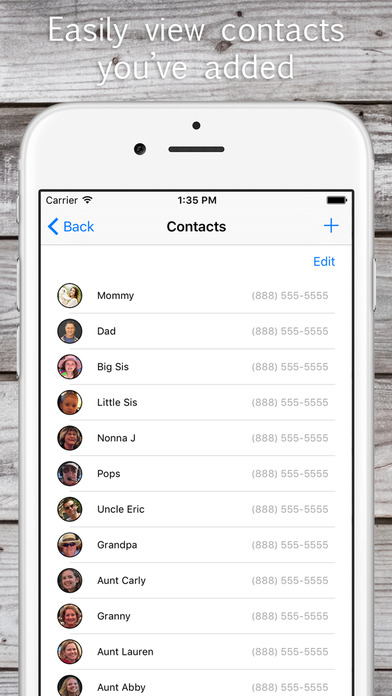 Tap Pics To Make Calls And Organize Contacts In Any Order
You also have the option to sort contacts. By tapping on "edit", you can position your contacts in any order you wish. Sort contacts by name, number, friendship heiarchy; the choice is yours. You can also delete contacts from this screen. By clicking on the red delete icon, contacts disappear one by one.
Sell Apps And Keep 100% Of Your Profits!
As the name implies, the Lite version is free. The full version removes ads. While Call My Photo Lite could have many more features, it boasts simplicity. Still, we would like to see some custom themes and skins for personalization. That said, what you see is what you get here. Simply organize your contacts in whichever order you wish, assign pics to them and then tap and dial. This makes it great for kids, the visually impaired and for those who don't want technology getting in the way of simple tasks.
Like This App Review? Chat About It And More In Our GiveMeApps Community!