GiveMeApps
Reviews
---
Chewman Android App Review
Feb 4th 2020 at 04:45am by Brooklyn Midas
Old themes die hard, and that is especially the case in Chewman for Android! Those retro gamers who salivate at old classics from the earliest days of arcade styled gaming will get a kick out of this Pac-Man styled game with 3D graphics and demonic vibe and lots of suprises along the way. Let's take a look!
See Also: Bird Vs. Brick (Android)
Enter Chewman
As the name implies, like the Pac of the 80s, the main premise is to gooble up as much as you can. Instead of little white dots, in Chewman, you're gobbling up as many coins as you can. The game kindly opens up with tutorial levels to give you a feel for the game play while allowing you to rack up points (you will need them).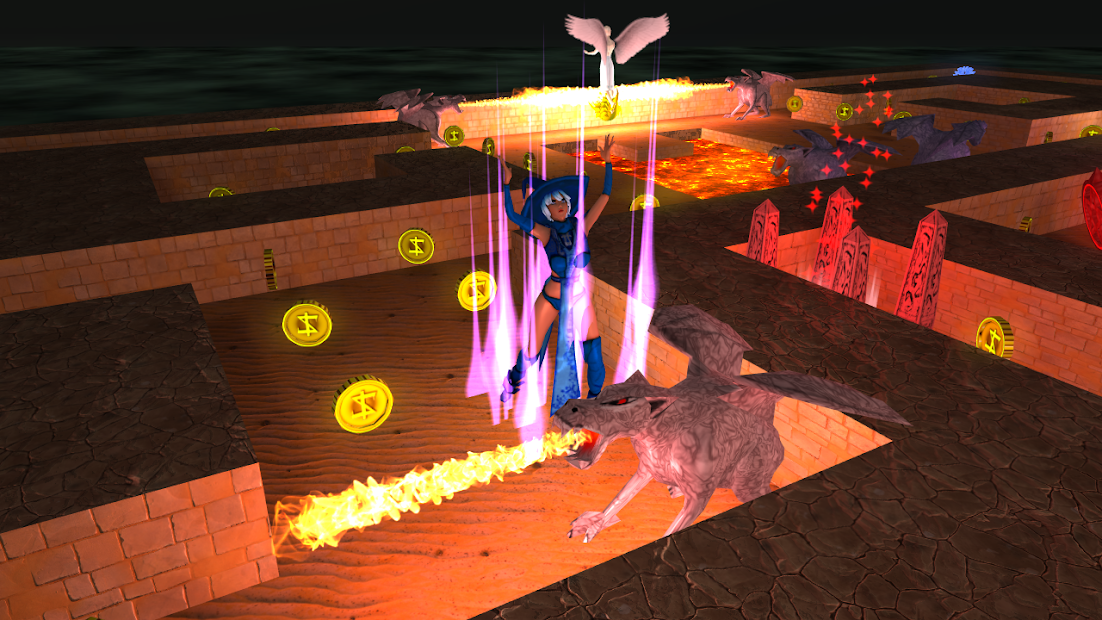 Like it's forebearer, you have to chomp all of the coins to complete each level
Each level has a set number of coins (displayed in the top right) which you need to gooble up before moving onto the next. It's not only coins you will find yourself chewing your way through. Some special items will give you powerups (more on this later). Your rating on each level is based on a) you getting all of the coins b) your timing and c) your score.
The Challenges
Things pick up in subsequent levels. While game is in classic Pac-Man style, the theme is dark! You're controling a demon hunting for treasure with enemies consisting of characters from the "Ancient Order" (think Knights, Priests, etc). These enemies begin to appear in the third level with some breathing fire in your direction to slow you down, or using swords to slice you, thus killing you on the spot.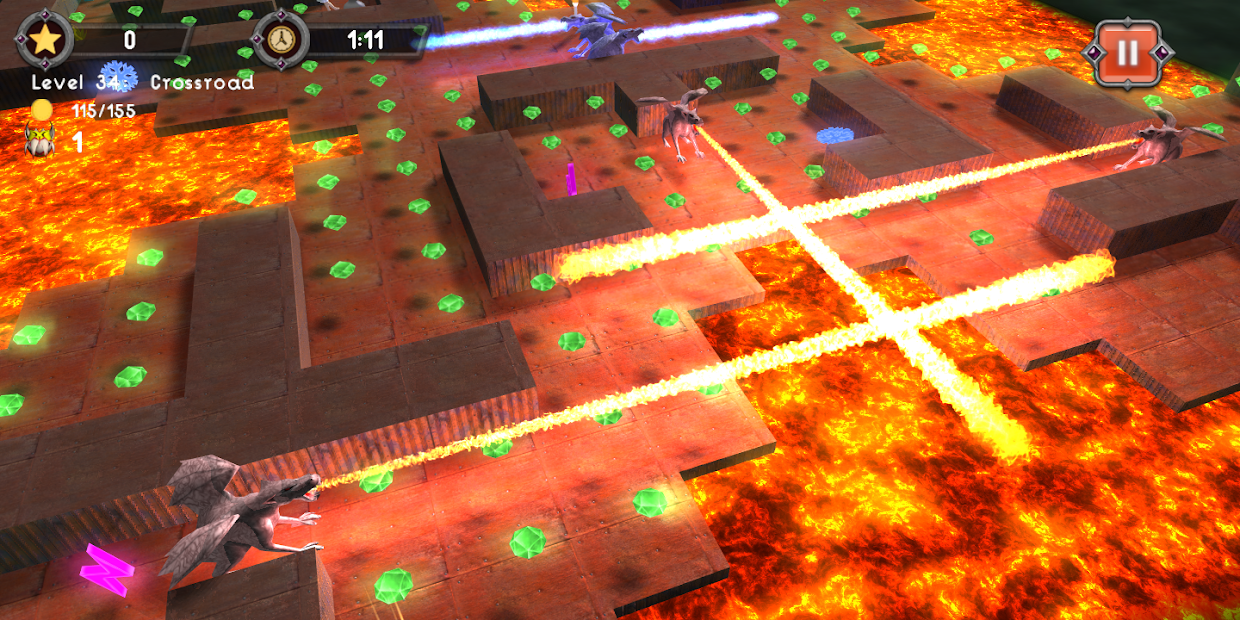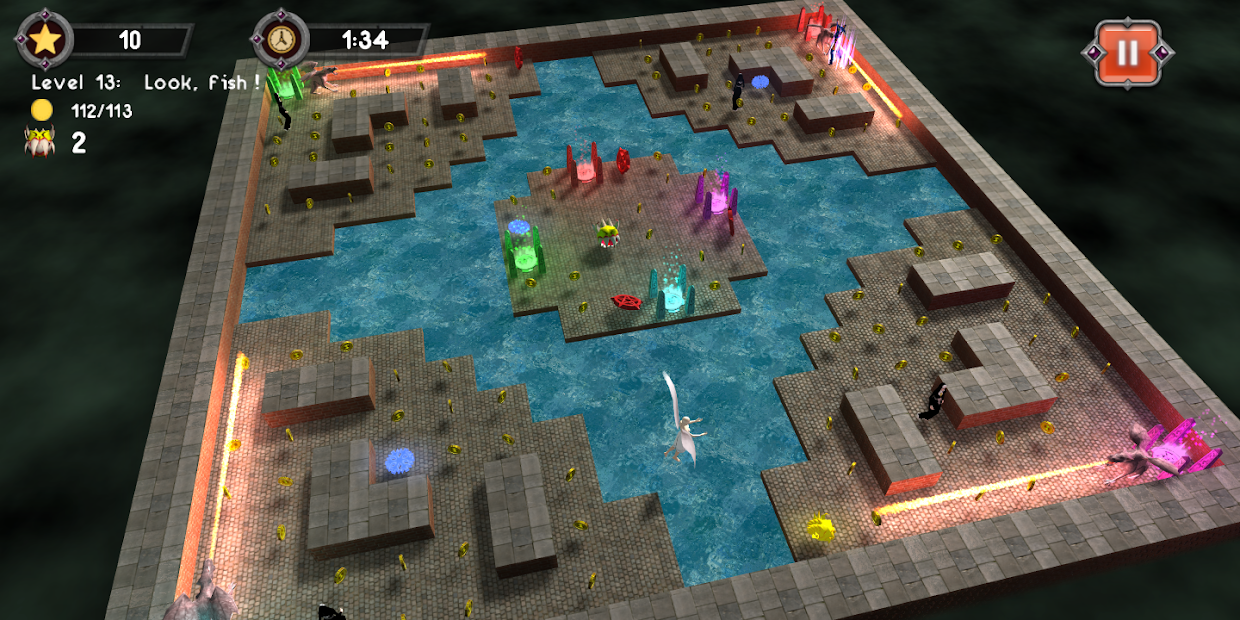 New levels bring unique 3D environments with major challenges

What we liked the most is that while of course it sucks dying, the developers here allow you start exactly where you left off, making progressing through the levels doable which is very encouraging. You'll actually want to keep going. In an era with very short attention spans, even non-gamers will find Chewman entertaining.
The Environments
Other challenges include the environments. One level for example consists of lava. You can imagine what happens when you come across that. Powerups will let you chew your way through walls which can help you complete levels faster. Other levels include Portals, which will help you to get around faster.
See Also: Don't Crash (Android)
Some levels include stationary enemies, while others have ones which move around the board. Avoid those to stay in the game much longer. As expected, things get more intense with each subsequent level, so it's up to you to keep up, otherwise, it's game over.
Sell Apps And Keep 100% Of Your Profits! Join GiveMeApps Today!
Conclusion
There isn't much to criticize about Chewman! The graphics are excellent, each level has a unique environment, you are able to pick up where you left off and there seems to be an endless variety of unique power-ups. For those who enjoy updated retro gaming, Chewman deserves a look. We kept playing this game for several hours. It is widly entertainig, challenging, but not impossible and all around fun. Kudos to Turbulent Software for a great product. Chewman requires Android 8 and up and while we were able to get away with trying it out on some Android 7 tablets, the developer highly recommends a modern device. Download it here.
Like This Article? Chat About It And More In The GiveMeApps Community!