GiveMeApps
Reviews
---
HotelsFX Android App Review
May 21st 2016 at 09:29pm by GiveMeApps
Searching for the right hotel at the right price is always somewhat of a duanting task. Whether it's for a lengthy vacation or an overnight getaway questions such as whether the place is close enough, has amenities like free Wi-Fi and continental breakfast or luxuries such as a pool and gym always come up. Thank your lucky stars you're not living in the 1990s when you'd have to look this information up on a phone book or the 2000s when you'd have to browse endlessly.
See Also: SOSKit Brazil (iOS)
HotelFx Hotel Reservation simplifies this process by sifting through hotels in over 100,000 locations around the globe and shows you just about everything. Who knows, you might even find something you like.
We've reviewed other hotel search apps and what makes this stand out is its simplicity. The main screen asks for three pieces of information - the location, check-in/check-out times and the amount of guests. Input that information and you're off.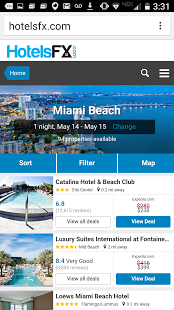 HotelsFX makes finding the best hotel deal easy!
Results can be sorted alphabetically, filtered by distance from you, types of facilities, price per night, guest ratings, themes or even by property type! You can even search for key words within a hotel name. Tapping on any filter criteria reveals more precise filters. As an example, when filtering by facilities, you can isolate results into sub categories such as Airport Shuttle, Fitness Room/Gym, Free Wi-Fi, Kitchenette and much more.
See Also: JetMe (iOS)
Each listing contains pictures, pricing info and other pertinent hotel details. Clicking on results takes you to the hotel's parent site where you can engage in a transaction. Looking for hotel deals couldn't be any easier.
Like This Review? Chat About It And More In Our GiveMeApps Community!