GiveMeApps
Reviews
---
Bumpies Mania iPhone/iPad App Review
Jul 26th 2016 at 04:45pm by Brooklyn Midas
If you're looking for a game which marries physics with unique game play and whisks you through different worlds with cute little characters you can customize and multiplayer capability then Bumpies Mania might be right up you alley.
See Also: Bumpy Rider (iOS)

In true Harrison Ford, "Get Off My Plane" fashion, the premise behind Bumpies Mania is to occupy your "bases" (our term) and defend them from your opponent at all costs. These Bases which appear as circles change color depending on who occupies them. In the earliest levels its red against blue with you being red.
Gameplay
To play, you touch to hold down your character and then swipe opposite of the direct you want to catapult it to. The objective is to get your characters on all of the bases. It is important to pay attention to how far you snap your character back before you release as you could end up making it move too far from any of the bases. Your opponent can knock you off your base! The challenge is then not just occupying your bases, but removing your opponent from any which they occupy or knock you off from. You win when you get your character on most of the bases.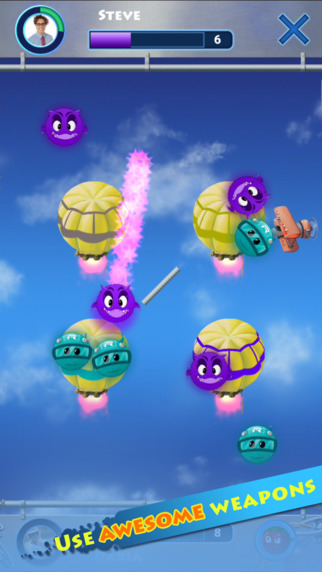 Characters & Worlds Get Interesting As You Advance
Things get interesting as you rack up points. You can use weapons get your get rid of or move your opponent and of course as you progress, you have the opportunity of purchasing better weapons and acquiring new characters. Each character has its own unique animation.
See Also: Tiny Spirit (iOS)
Wonderings
The only criticism we have with this game is that we played it on an iPad Mini 2 with iOS9 installed. The gaming area did not fit the width of the display as it does on newer devices. While this may seem overly critical, apps designed to work on a specific iOS version should in theory support every device which supports the OS. We're not talking about intricate audio or video software here. This is a game. We hope this is addressed by the developer. Users with older devices, you've been warned.
Sell Apps And Keep 100% Of Your Profits!
Other than this Bumpies Mania is refreshing, cute and addicting. We do recommend you check it out!
Like This Review? Chat About It And More In Our GiveMeApps Community!