GiveMeApps
Reviews
---
Free Invoice Maker App To PDF iPhone/iPad App Review
Jul 11th 2022 at 03:38pm by Queens King
If you were to think of one thing which clients fear the most in a business transaction, you might say the bill! This all depends. If you are eager to finisih a project and know your hire is worth every penny, you might be excited to pay! If you are the one providing the service, of course you look forward to payment. Managing invoices is one of those tasks that every business has to endure. No need to pull out your desktop or laptop, Free Invoice Maker App To PDF aspires to have all bases covered on your iPhone or iPad. No expensive software suite required!
See Also: Manage Credit Cards Easily (Android)
To quell any of your inhibitions at the outset, the developer decided to include a step-by-step tutorial that loads the moment you first use the app. It walks you through all of the apps features, creation and management tools, the interface, subscriptions and more. It uses arrows and pop up dialogs to direct your attention to where everything is. The tutorial is so good in fact that when we used to app for the first time, we were able to utlize all of its features and generate invoices without having to hesitate. Nice touch! We always love tutorials.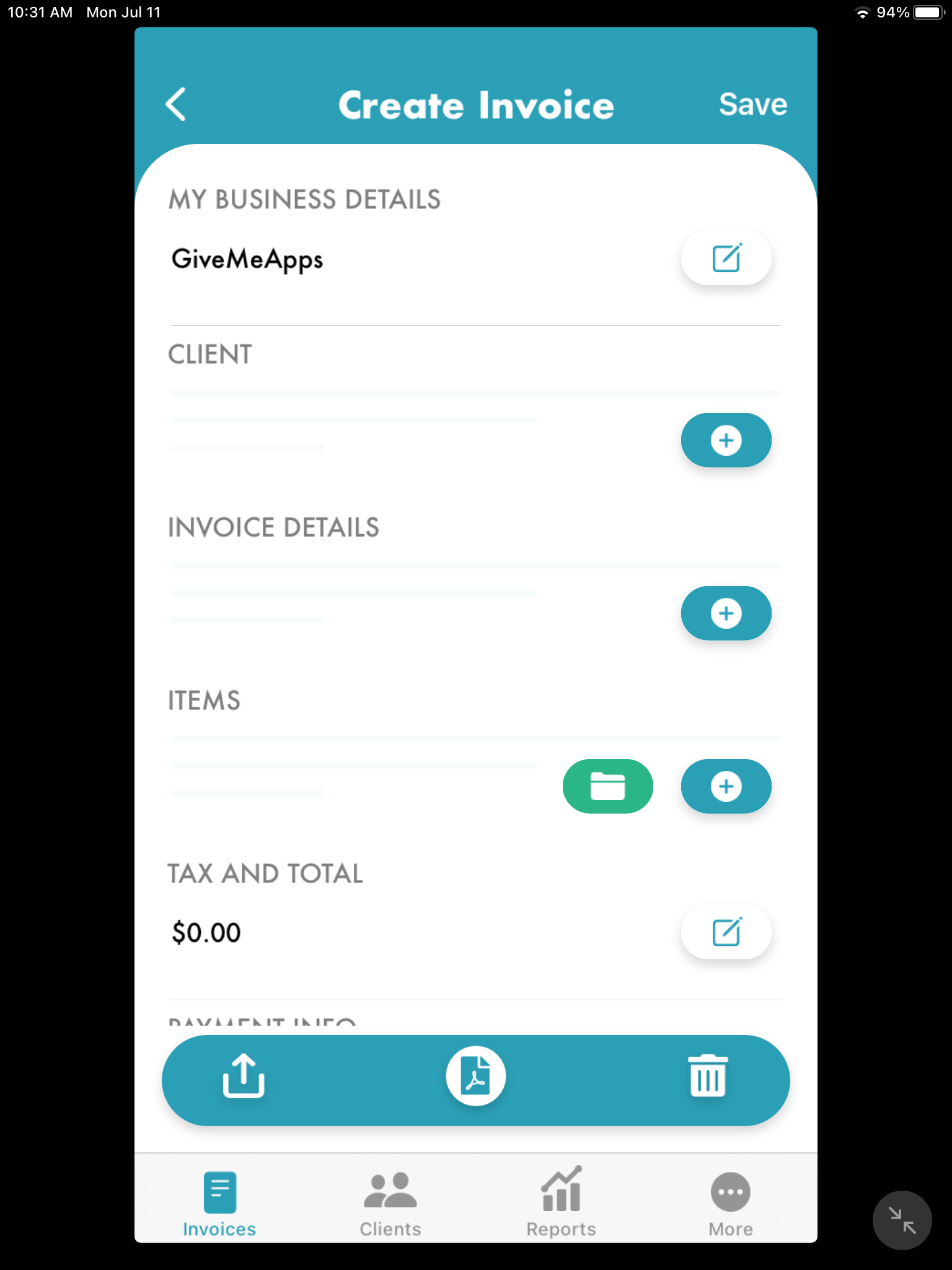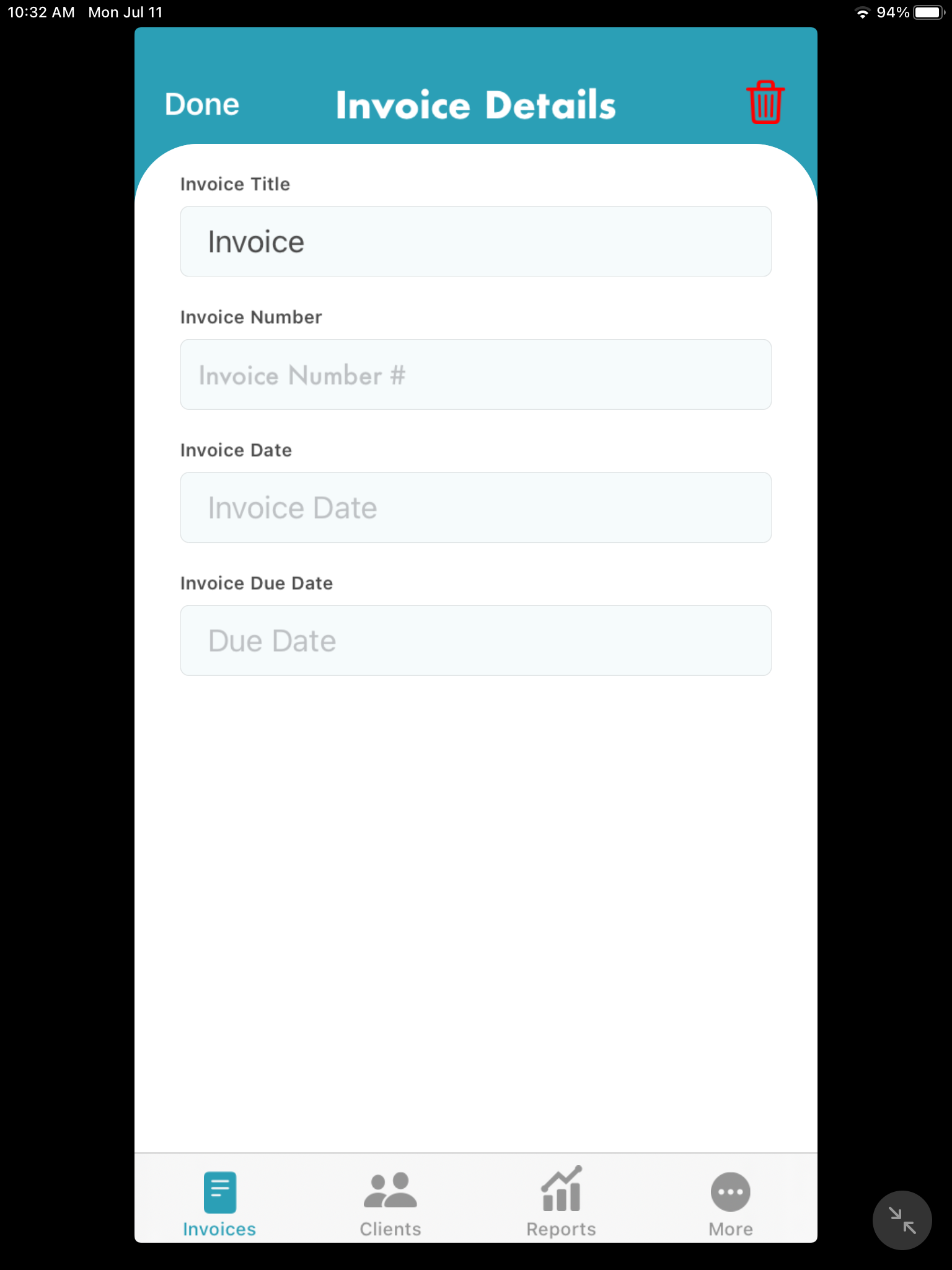 Creating invoices just requires a few taps and quickly filling in the fields
Before creating your first invoice, we advise that you enter in your business information first. This includes your business name, logo, address and phone number. These items will appear at the top of your invoice so your clients know who they are dealing with. The process is painless. Simply tap on the "+" signs underneath each field to enter in the appropriate information. Once done, tap save and you are ready to go.
When you are ready to generate an invoice, simply tapping the large "+" icon on the bottom left of the INVOICES page and you will be prompted to start creating your invoice. Information required here include the name of your client, invoice number, date and due date and items on the invoice. The "items" consist of the desciption of the product or service, units in time (i.e. hours or days), unit quantity, the unit price and total price. If for example, your unit price was $5 and the unit quantity was 3, then your invoice total would be $15. From there, you can add payment information, additional info, your signature and even a thank you note! You can store multiple signatures which may come in handy for different clients. When all information has been entered, you can then tap the save prompt to store your invoice. All invoices are stored on the "All Invoices" page for later retreival and editing.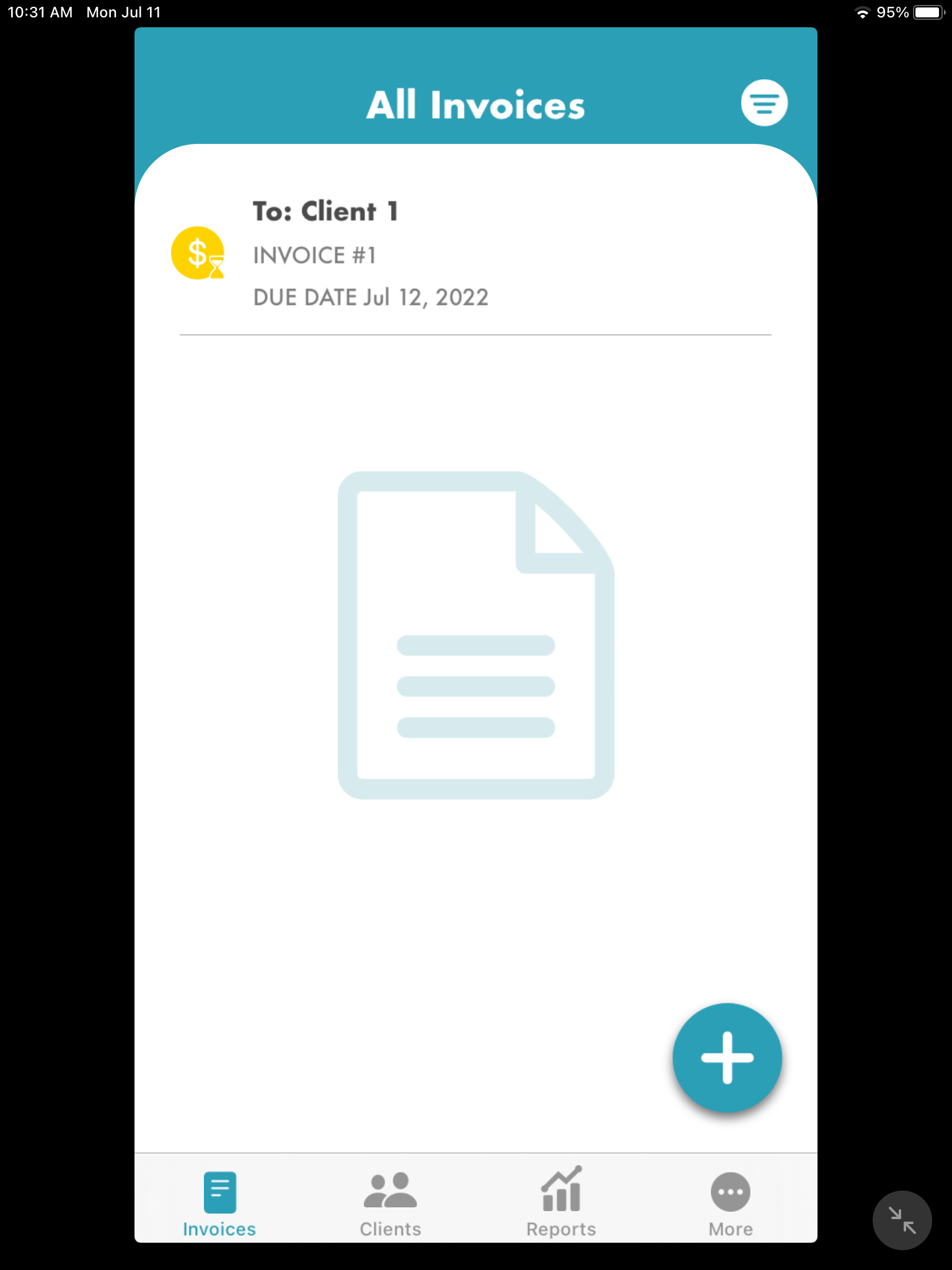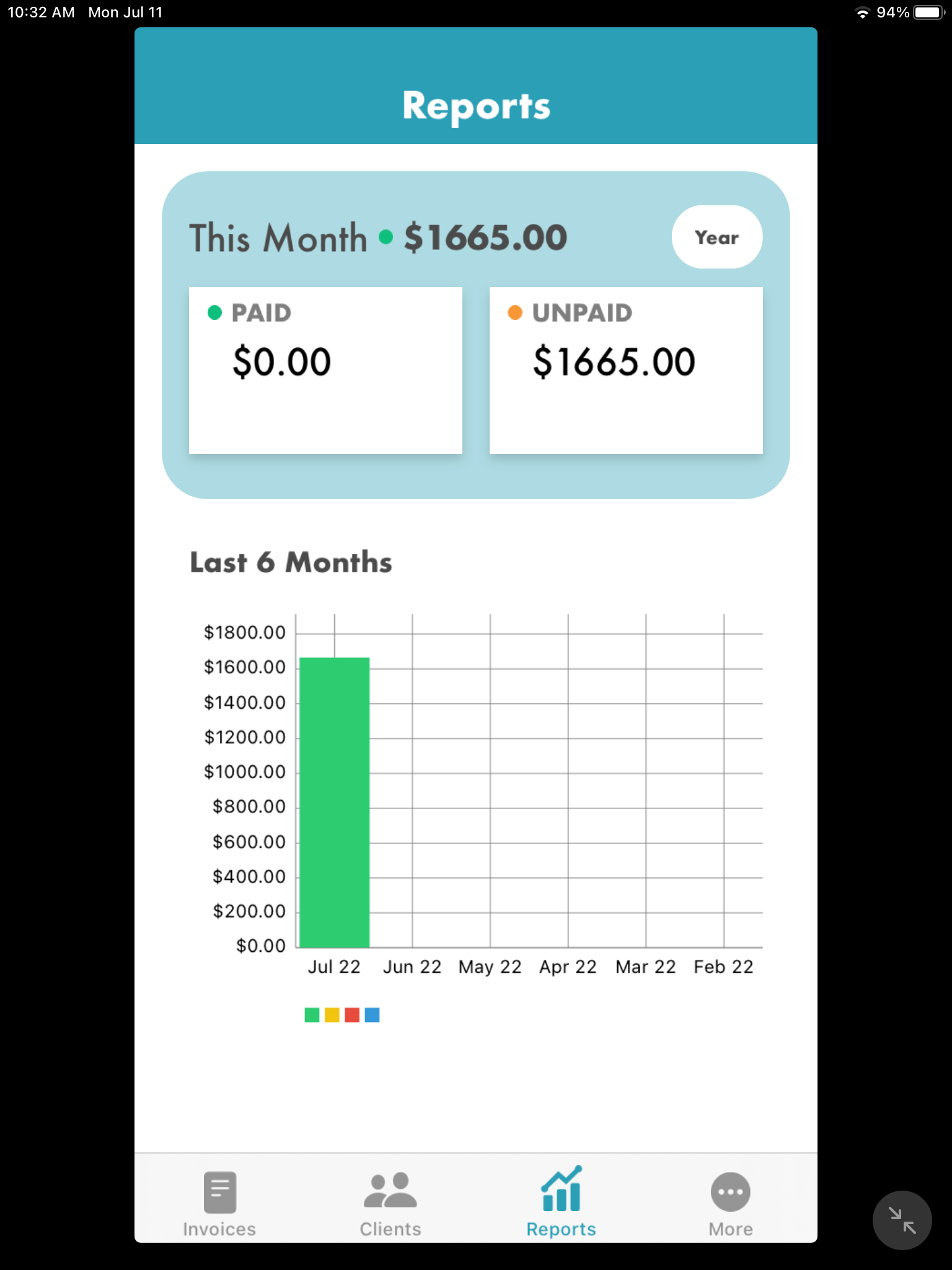 An intuitive interface, colorful reports and accessibility make Free Invoice Maker a pleasure to use.
At the bottom of the screen is where you can find the main menu. Options include "All Invoices" as discussed and "Clients" where you can select from and manage client information. "Reports" will display colorful bar graphs showing the amount of unpaid and paid invoices. The graph shows invoice amounts on its Y axis and the last six months on its X axis. Invoice types can be differentiated by color and amount totals can be filtered by the previous month or previous year. The "More" option brings up miscellaneous items such as "Subscriptions", "My Business", "Templates", "My Signatures", "Currency", "Saved Items", "Payment Info" and "Other. We will cover a few of these items below.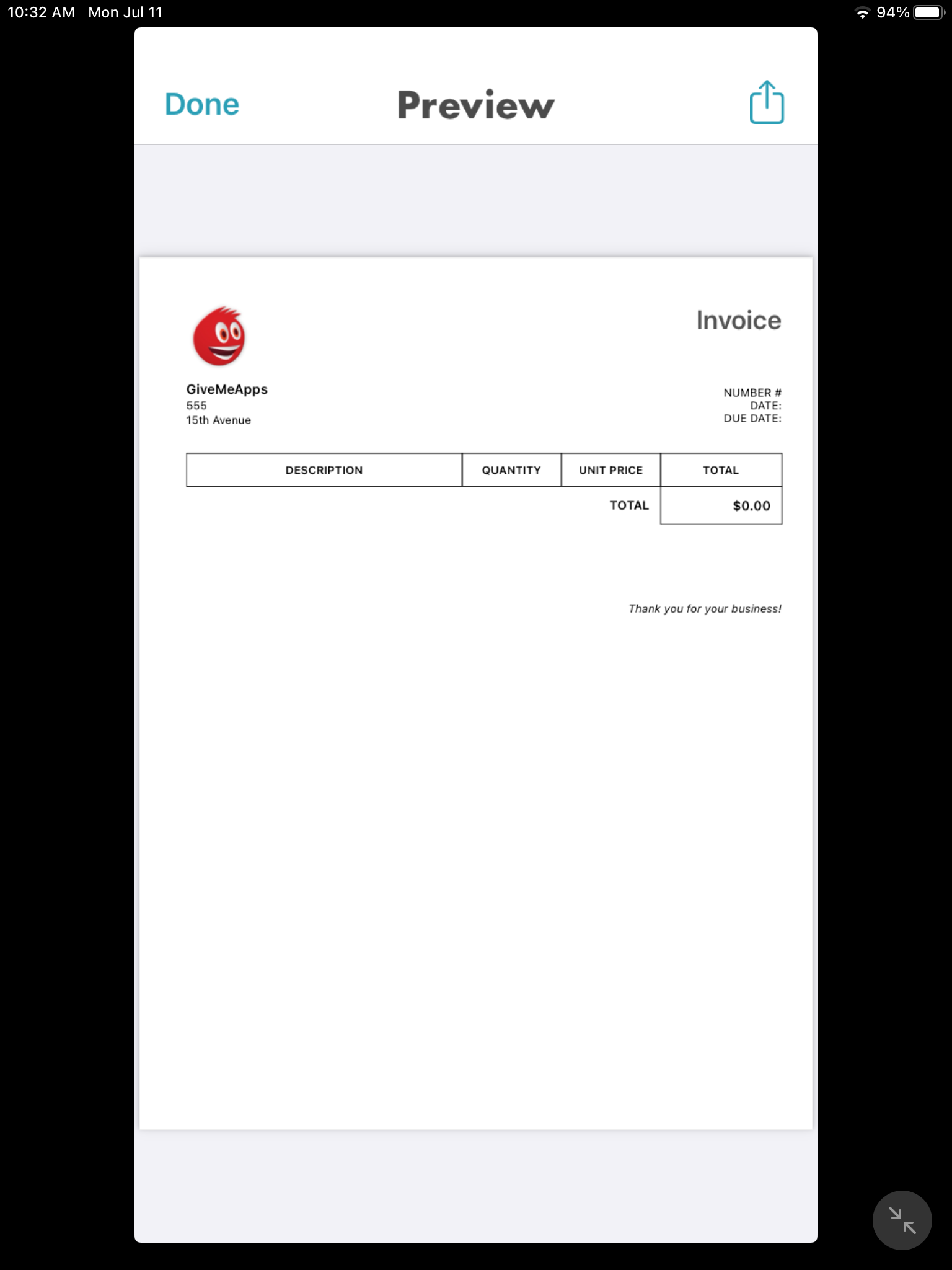 You can truly make professional looking invoices and store multiple signatures.
While usage of the app is free there are premium subscription that unlock features such as the ability to send an unlimited amount of invoices and adding signatures as mentioned above. Without a subscription, you can send one invoice. Invoice tiers go from "Weekly" to Yearly". Prices respectively are $2.99 (weekly), $10.49 (monthly) and $31.99 (yearly).
See Also: SalesVu (iPhone/iPad)
There is a "Lifetime" tier which grants forever access at $99.99. While we sometimes frown on paid productivity apps, this is no throwaway app. You're getting a professional level app with features expected in higher priced desktop apps. As a great gesture from the developer are allowed a 3 day free trial run which unlocks all features, so you have the ability to decide whether or not this app will be useful to you. If you choose not to cancel the trial, the app defaults to an annual subscription ($31.99). As skeptical as we can be at times, we felt this was fair. If you don't like it, just cancel your subscription before the three days are up.
Sell Apps And Keep 100% Of Your Profits!
We, is the app useful? We resist the urge of telling our readers what to do! What we will say however is that if you are a mobile device warrior and use that as the centerpiece of your small business, this would be an extremely useful tool in your suite. Even at the "Forever" price tier, if you have a lot clients, this app will pay for itself. All invoices look extremely professional and as we said many times, it is extremely easy to use. For improvements, we'd love to see more information displayed in the reports section as well as the ability to generate different types of reports (i.e. multiple invoices with totals on one overarching invoice). Free Invoice Maker App To PDF is definitely worth a look! Download it here!


Like This Review? Chat About It And More In Our GiveMeApps Community!