GiveMeApps
Reviews
---
Iron Hopper iPhone/iPad App Review
Sep 7th 2017 at 10:21pm by Harold Everton
The developers of Iron Hopper for the iPhone and iPad tout their game as being "the" greatest of 2017. Whether or not that claim has any merit would be determined by you of course, not them. Offering retro styled 8-bit like graphics, cheesy background music and simple controls, could this mobile adventure steal the thunder of other offerings? It just might. Read on.
See Also: Dots & Co (iPhone/iPad)
Iron Hopper is the story of a character running away from a fireball (think Indiana Jones). It has to run through square platforms in the sky and make quick turns everytime it comes to a red square (think Temple Run or Tap Tap Dash). To jump (or hop, as the developer terms it), you tap once. Tapping twice lets you jump twice. While running and hopping, you have to act quickly to avoid smashing into pyramids and landing on magenta squares which slow you down (think Q-bert).
See Also: Structure (iPhone/iPad)
What you get is a best of retro and mobile classics rolled into one. While the concept may seem simple, getting a grasp the first few times may prove to be quite the challenge. Tap too soon when trying to change directions (red square) and you may inadvertantly jump out of the sky falling off the platforms. Tap too late and you'll slip off. Accidentally land on a magenta square? Trying to get ouf that will be like running in a puddle of grease. Good luck. The fireball will catch up and crush you.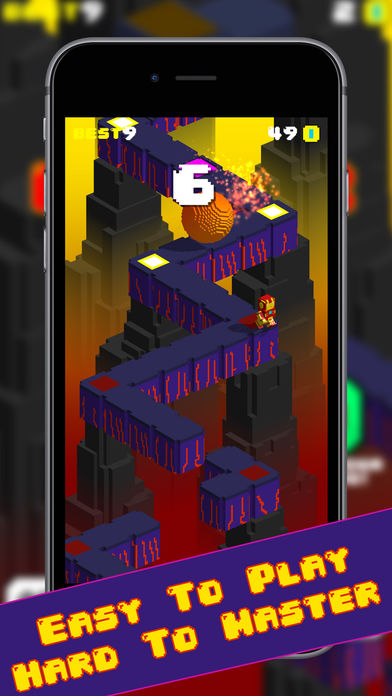 Iron Hopper is almost like a best of classics rolled into one!
One of the most exciting and unique features of Iron Hopper is that when you finish a session, you can extract a GIF or PNG of your gameplay to share! You can share the precise moment you died with your friends on social media or via airdrop between iOS devices. Cool factor x 10. The ability to extract precise moments in the last attempt would have been even better, but that might be asking a bit too much.
Iron Hopper is one of the first games in a while that made my anxiety skyrocket. Because levels are randomly generated, every attempt will not be indentical. Gaps in between platforms and where squares are placed will always be different. Since you cannot continue where you left off if you failed, this game feels extremely challenging. That's a good thing. Indeed because we couldn't put our device down.
Sell Apps And Keep 100% Of Your Profits!
Additionally, there are 30 characters to unlock as you traverse the available landscape. While this game doesn't necessarily present completely new ideas, playing this is fun, fun, fun and will play with your anxiety. It is addictive in every sense of the word. While "greatest game of 2017" may be a bit of a stretch for some, this is certainly one of the best games we played in a while. Sometimes simple is better!
Like This Review? Chat About It And More In Our GiveMeApps Community!