GiveMeApps
Reviews
---
Pod Network iPhone/iPad App Review
Nov 19th 2019 at 02:06am by Queens King
Social Media in many ways seems to have reached its peak. Everywhere you go you see people on their phones. The huge social media conglomerates have people plugged in literally all day long. If you have a decent memory, you will remember a time when today's most popular network was fighting for domination. Well, history repeats itself and just as the current social network juggernaut won out because of its unique way of bringing people together, there are emerging network which are just as innovative. Pod Network is one of them.
See Also: Glyffy (iPhone/iPad)
Inside The Pod
Unlike giants Facebook and LinkedIn which operate on the premise that you already know someone, Pod encourages networking with strangers. Pod Network runs on the idea that you would want to connect with someone who shares your interests rather than with friends in common. Much to our surprise, Pod Network is well populated. The main interface rests on a map with clusters. Each cluster has a number which refers the number of people in a given area. Moving the map prompts you to zoom in on these clusters. Once zoomed in, avatars representing people appear. Tapping on the avatars then shows you that person's profile along with their interests. Zoom out and you get a nice list of people in that area. You can choose your own avatar from a selection by the way.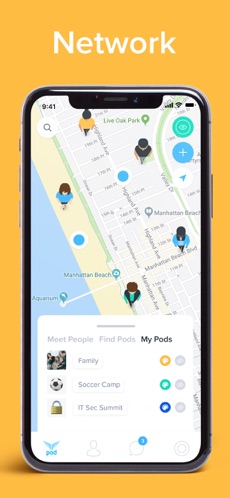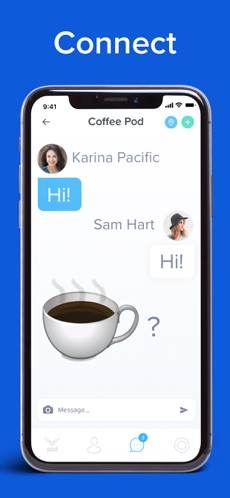 Avatars reveal profiles with user interests. Ping to chat with other users
Making Connections
Connecting with people is as easy as tapping on a black ping button. From here, you can send your prospective friend a message letting them know why you wish to connect. You can people and of course people can add you. There is an area which will show you the amount of people you are following and vice versa. Your list can grow to as large as you'd like. It is important to build up your profile. There you can add your interests. When looking to network, interests in common appear in a light blue font, perfect for connecting with people who share your interests. The possibilities are endless of course. Make friends, find business partners or network just for the heck of it.
See Also: Meta Meme (iPhone/iPad)
Space Pod
Its name sake comes from the fact that you can create events called "Pods". Simple choose a picture for your pod, write a description, set a date and time and either invite others or wait for people in your area or browsers to request participating in the pod. In our use, we create a mock Tech event and Real Estate event.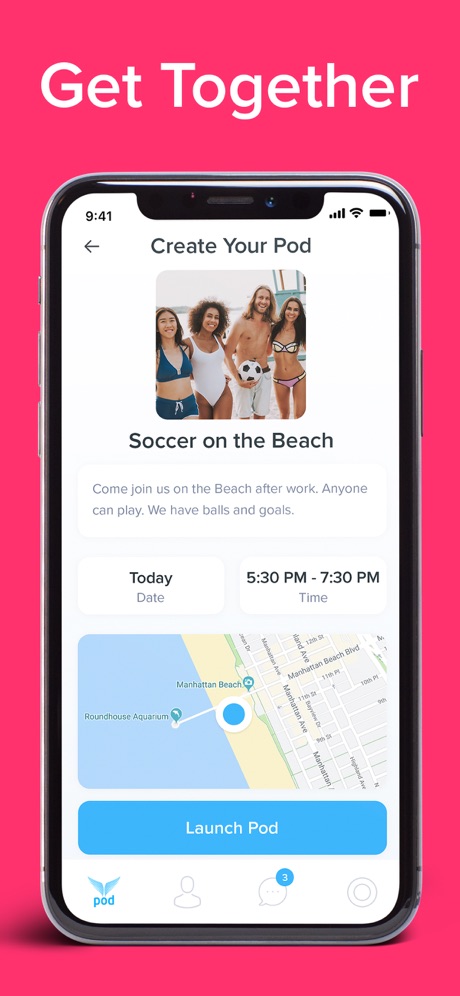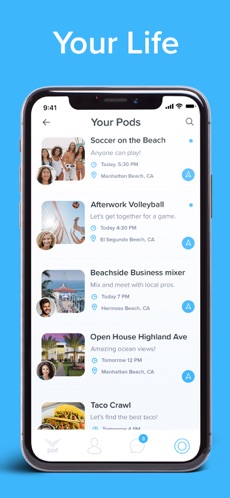 Create pods for networking and meetup opportunities and watch others join
Surprisingly and rather quickly, people in our area inquired about this event and we had a few sign ons. If you were looking to do an impromptu meetup or plan something in advance, Pod Network can be another tool to help get the word out.
Sell Apps And Keep 100% Of Your Profits!
The Difference
There are a ton of social networks online, each offering its unique approach but built on the same idea. Pod Network has a lot of potential. It being built on interests rather than popularity make it a potential business tool, especially for entrepreneurs and creative types. Its sleek interface and no frills navigation make it very cut and dry but intuitive ad valuable. It being well populated makes it a good tool to use right now! Download it here.
Like This App Review? Chat About It And More In Our GiveMeApps Community!