GiveMeApps
Reviews
---
Sweet Cake Boss Android App Review
Feb 4th 2017 at 03:36am by Brooklyn Midas
Do you have a sweet tooth? Do you love Match 3 games? If you're match obsessed and have had enough with Candy Crush, then Cake Boss might be what you're looking for, especially if tasty treats are your weakness.
See Also: Gummy Soda Puzzle Adventure (Android)
Available in both the iOS and Android variety, instead of matching candies, here you match delicious treats. Donuts, Cakes, Cupcakes, you name it. The main and pause screens display expected control options - backing track and sound effect volumes. After a quick cute tutorial complete with word bubbles, a map displays showing your way up the levels.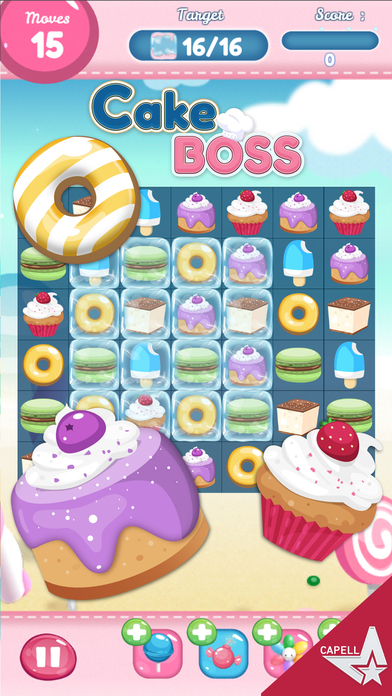 Sweet Cake Boss Combines Delicious Graphics With Match 3 Gameplay
Each level has a target score. Your job is to reach the target with the minimum number of moves. You can exhaust yourself with moves, but with star rating displays for each level, of course, you want to collect as many stars as you can at the end. To play, you simply match three like treats. You can match items horizontally or vertically. Diagonally would've been nice, but that isn't how these games work. Of course, this makes things a bit more challenging.
See Also: Crush Sweet Jewels (Android)
Matching more than three treats dishes bigger payouts, so to speak. On occasion, I was able to match more than 6 treats at a time. Of course, this can help you progress faster. Matching items clears them and forces others to drop down. You may inadvertently auto match other items throughout this process. No problem! You may reach your target score quicker than you thought you would.
Sell Apps And Keep 100% Of Your Profits!
Of course, no modern game would be complete without in app purchases. You can work your way up with cool amenities if you spend, but of course, they are not necessary to enjoy the game. With hunger inducing graphics, a nice level map, target scores and ratings, Sweet Cake Boss is sure to give you lots of fun as well as a means to work up an appetite.
Like This App Review? Chat About It And More In Our GiveMeApps Community!