GiveMeApps
Reviews
---
Wallpapers Anime 4K Android App Review
Aug 15th 2020 at 01:20am by Brooklyn Midas
Are you obsessed with Anime or Manga? No? Well, then not only are you not a part of the million who are and are missing out on a lot! With Manga comic books, cartoons/tv series, movies and art with Wallpaper Anime 4K for Android, you can know bring the world of anime to the Home and Lock Screen of your Android Device!
See Also: Gunshot War (Android)
Are you ready?
Enter 4K
Wallpaper Anime 4K, as the name implies brings to you hundreds, if not thousands of anime themed wallpapers in a multitude of categories. We've done overviews of many apps which have claimed large numbers, but this app does deliver. If there is an Anime series you can think of, chances are you will find several wallpapers associated with it in this app. Let's dive in.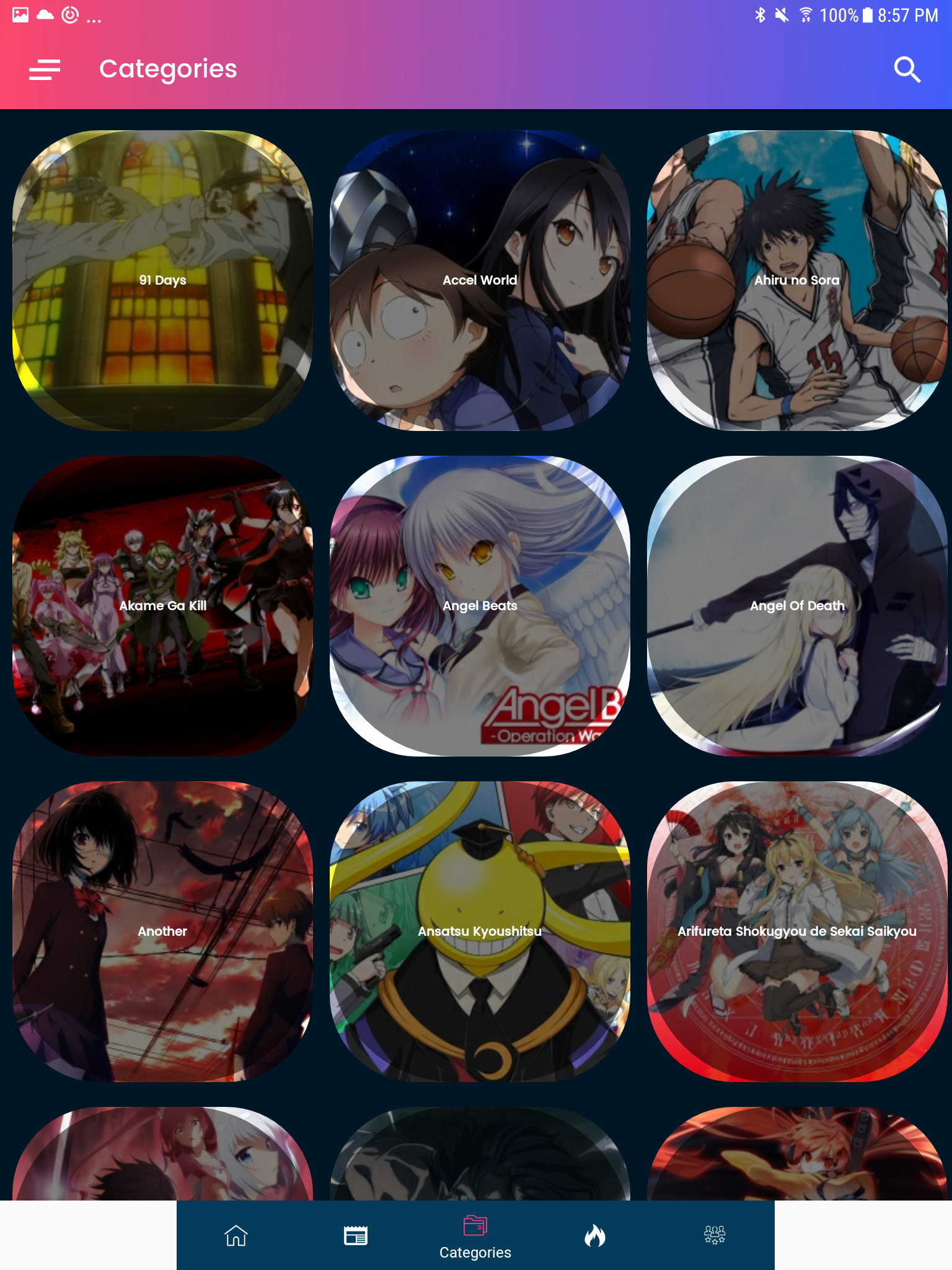 Wallpaper Anime 4k has a plethora of anime titles for selection
When you fire up the app for the first time, you're taken to the home screen. The home screen is setup like an app store where you can scroll through popular wallpapers, categories and the latest wallpapers. More on categories later, but just to illustrate the breadth of what's available, one heavy scroll will display what seems to be an endless carousel of anime titles! Unreal. On the bottom of the screen, you will see the main menu which mirrors more or less what you see on the Home Screen, but will allow you to isolate the items associated with each menu tree. This once again includes, "Latest, Categories, Popular and Rated".
See Also: Run And Jump Boy (Android)
As expected, "Latest" shows the latest wallpapers uploaded. Categories shows the many Anime titles/series. Popular shows the wallpapers being downloaded the most, while Rated shows the highest rated wallpapers.
Categories
Going over the Anime Titles included in Wallpaper Anime 4K is exhaustive. Here is a quick preview - 91 Days, Accel Words, Angeal Beats, Angel Of Death, Ansatsu Kyoushitsu, Code Geass, Darwin's Game, Date A Live, Darling In The Franxx, Death Note, Dragon Ball, Dr. Stone, Fate Stay Night, Ghost-07, Haikyu, Hunter X Hunter.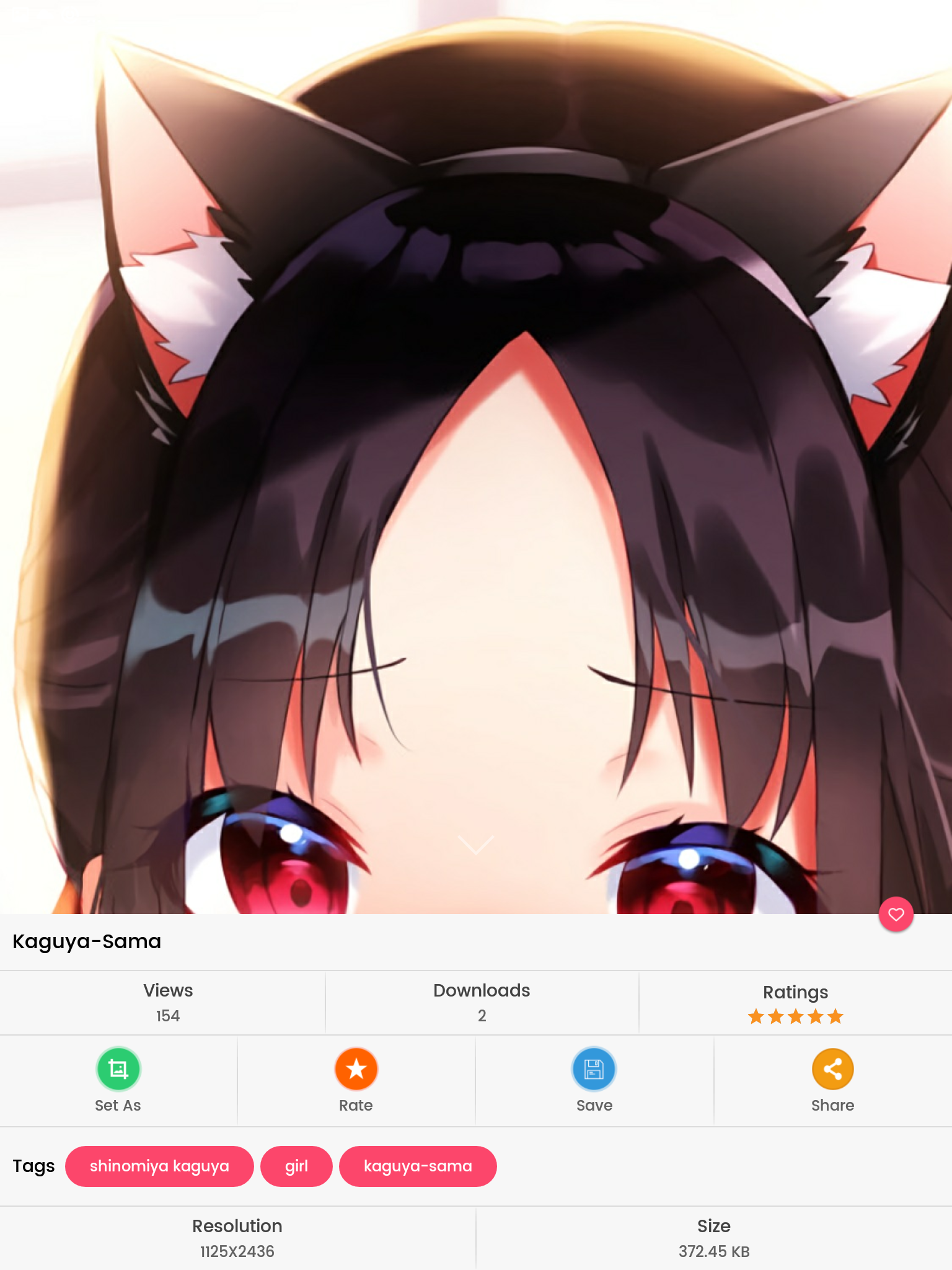 Saving, sharing and setting your wallpapers are easy as pie!
We seriously could write four paragraphs on the titles included and not be done. To make things even more interesting, it's not as if when you click on the titles, you get one or two wallpapers. Each category has as little as three and as much as ten different wallpapers to choose from. This is truly an anime fan's app.
Setting Wallpaper
Setting your wallpaper is straight forward. You can of course choose to set wallpapers to your home screen, lock screen or both. When you select a wallpaper, you swipe up which reveals several options.
Sell Apps And Keep 100% Of Your Profits! Join GiveMeApps Today!
You can rate the wallpaper, save it, view ratings, share it, see the number of views it has had so far, see the resolution of the wallpaper, and size of the image. Tapping on "Set As" will allow you to crop the image to your liking and then reveal the save to home screen or lock screen options. Click on either and your wallpaper is set. It really is that simple.
Verdict
Whether you are a hardcore fan or enthusiast, Wallpaper Anime 4K has something for everyone. In addition to the smorgasbord of content, the fact that the app is frequently updated, gives you tons of information and is both intuitive and easy to navigate makes it a must have for anyone who wants to bless their Android device with a touch of Anime. A well done app! Download it here!
Like This Review? Chat About It And More In Our GiveMeApps Community!