GiveMeApps
Reviews
---
Abby In The Sky iPhone/iPad App Review
Dec 6th 2016 at 08:35pm by GiveMeApps
Who doesn't like a little bit of nostalgia? If you're privy to the bleeps and blips of early video games, grainy graphics and simple gameplay, then Abby In The Sky might be up your alley.
See Also: Run Away Kid (Android)
In this 8 bit bonanza, you have to steer good ol' Abby to safety by avoiding obstacles. Some of those obstacles include gun shots and boxes. The cool surprise is that using your horn (you are a unicorn after all), you can move the said obstacles out of the way. In addition to using your horn, at least with the boxes, you can use your body to move them out of the way or to push them into other obstacles leaving your a safe path to travel.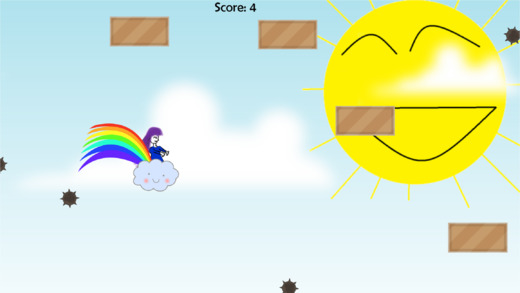 Abby In The Sky Will Bring You Back To The 8 Bit Era Of Gaming
Overall, you can consider this to be Flappy Bird meets Super Mario 2. Instead of just being able to move forward, you can move in any of four directions horizontally or vertically with a plus button control reminiscent of the original Nintendo NES from the mid 80s. The background music isn't the most catchy, but the game play will keep your attention.
Sell Apps And Keep 100% Of Your Profits!
Like the flappy games, you will be tempted to constantly beat your previous score. While Abby In The Sky doesn't win points for innovation, it need not. Consider it a fun and formidable entry to the ever growing retro-themed adventure genre.
Like This Review? Chat About It And More In Our GiveMeApps Community!