GiveMeApps
Reviews
---
IMEI Checker Pro iPhone/iPad App Review
Aug 26th 2017 at 09:49pm by Harold Everton
Everybody wants a great deal, but at what cost? Does security, peace of mind and ethics mean anything to you? I remember years ago, I was dying to get a new blackberry and found someone on Craiglist selling a late model way below market. A few moments after purchasing it, my device began receiveing a bunch of text messages saying things along the line of "anyone find my phone?". Bummer, I purchased a stolen device! I handed it to the police the next day.
See Also: KleverNote (iPhone/iPad)
IMEI Checker for the iPhone/iPad will give the peace of mind of never having to go through that experience. These days purchasing a stolen device will still put you in the hot seat if you don't report it and shady third party sellers have no shame. The premise is simple. Every device has an IMEI number. The app will check yours against blacklist databases to let you know whether your device is "Clean" or if it falls under any negative categories.
See Also: ScanPost (iPhone/iPad)
The app is free to download, but checking IMEI numbers requires one credit per check. Credits can be accumlated through in-app purchases. It would be really nice if they could load every new account with at least one free credit so users can experience how useful and powerful the app is. That said, we would imagine normal users doing very few checks, while businesses on other other hand may do many regularly (on the other hand, you can just watch our app review video to see how it works!). Developers have to make their money after all. Once you have your credits, you simply enter in the number and a load of information regarding your device will appear (see video below).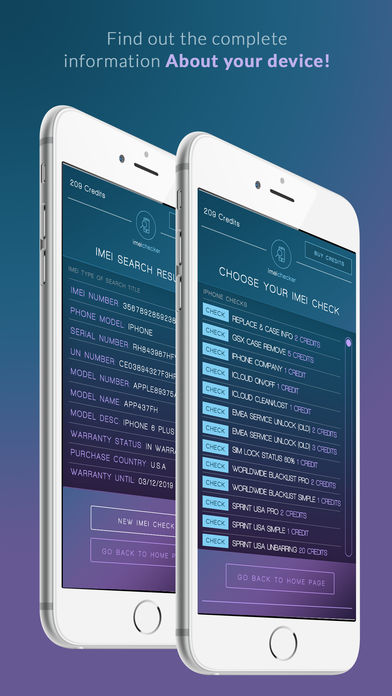 IMEI Checker Pro will protect you from purchasing blacklisted devices
When entered and the app does its magic for iPhone IMEI checks, you will see the following stats appear: Model, IMEI Number, Serial Number, Find My Phone, GMA Status, Coverage Status, Coverage Start Date, Coverage End Date, Product Sold By, Initial Carrier, Purchased In, Estimated Purchase Date and Registered Purchase Date - All pertinent information. We located two IMEI numbers on eBay, a place where many sellers will claim their device has a "Clean IMEI number". Much to our surprise, one of these claims were false. Upon check, one eBay listing which claimed "Clean" was actually selling a stolen device. This experience showed us how valuable this app could be to the everyday user.
Sell Apps And Keep 100% Of Your Profits!
We reviewed an earlier version of this app some three years ago. With this newer version, you can also check iCloud On/Off, iCloud Clean/Lost, Worldwide Blacklist, Sprint USA - Pro, Verizon USA Clean/Lost, HTC info & Country amongst other parameters.
"Carrier Checker" - An earlier version we reviewed 3 years ago
Whether you are using this on a personal level or for business, this app will save you from a lot of aggravation and help you steer you onto the good side of ethics. If you're in the market for a new device, make sure yours is clean. Don't take a seller's word for it, let IMEI Checker Pro help you do your homework.
Like This App Review? Chat About It And More In Our GiveMeApps Community!