GiveMeApps
Reviews
---
Cash Predict iPhone/iPad Review
Dec 2nd 2022 at 10:55am by Queens King
Past performance is a good indicator of future performance is a trope that we often hear. This is the crux of financial planning apps. You track your financial progress over a certain period and some applications will allow you to make projections based on your past habits. "We can always create a new beginning" is also another common saying. Can we use that mindset for financial planning? Cash Predict for the iPhone, iPad and Mac thinks so. Let's see how well it works.
See Also: Manage Credit Cards Easily (Android)
Cash Predict touts itself as a worthy contender based on its unique approach of focusing on the now and short term based on current habits, being things you are doing right now or plan to do. Once installed, one immediate stand out is that you do not have to create an account. This alone separates it from a myriad of financial apps. Cash Predicts prides itself on being very secure. Once it loads for the first time, you are prompted to enter information about your current state of finances.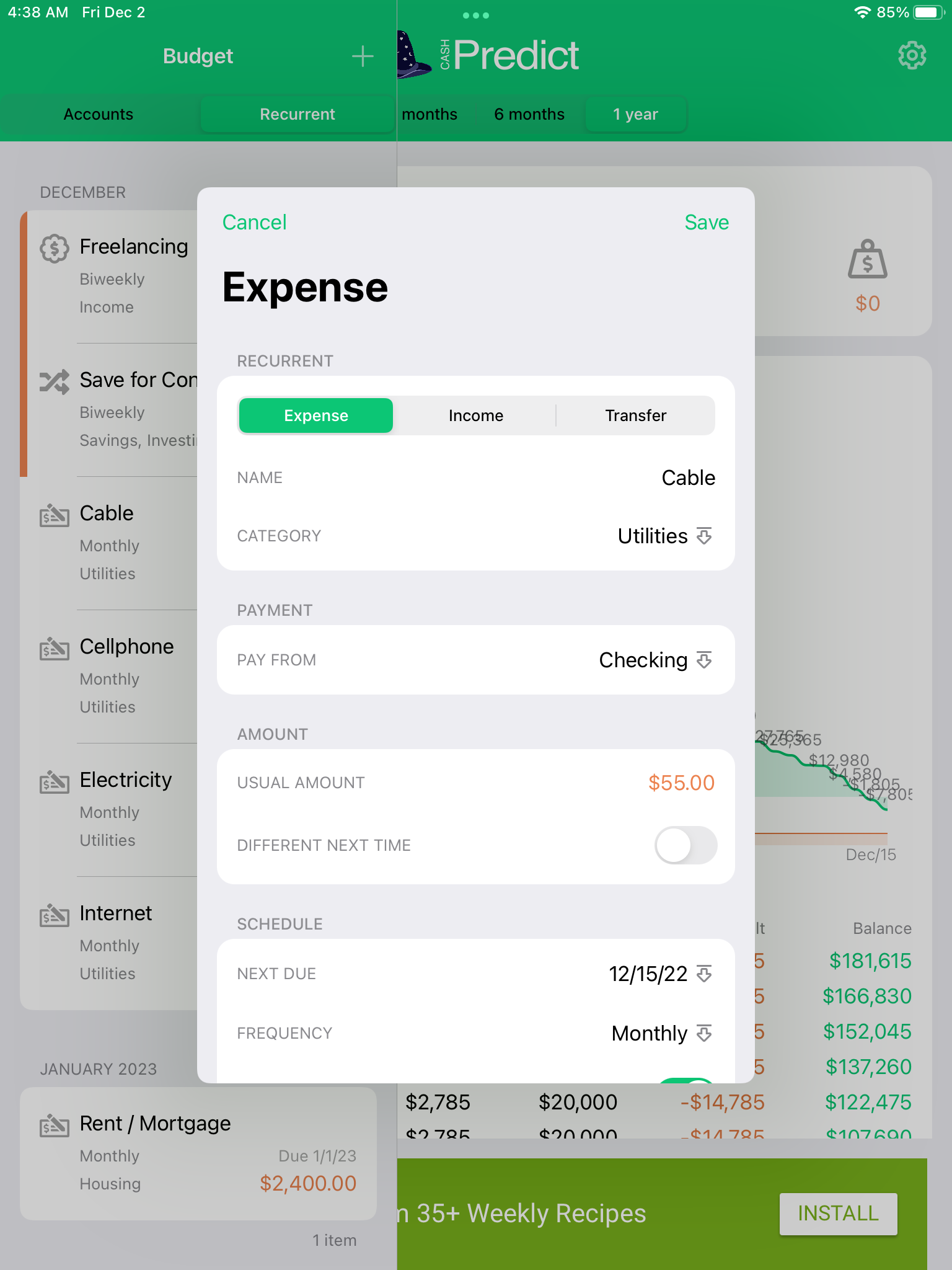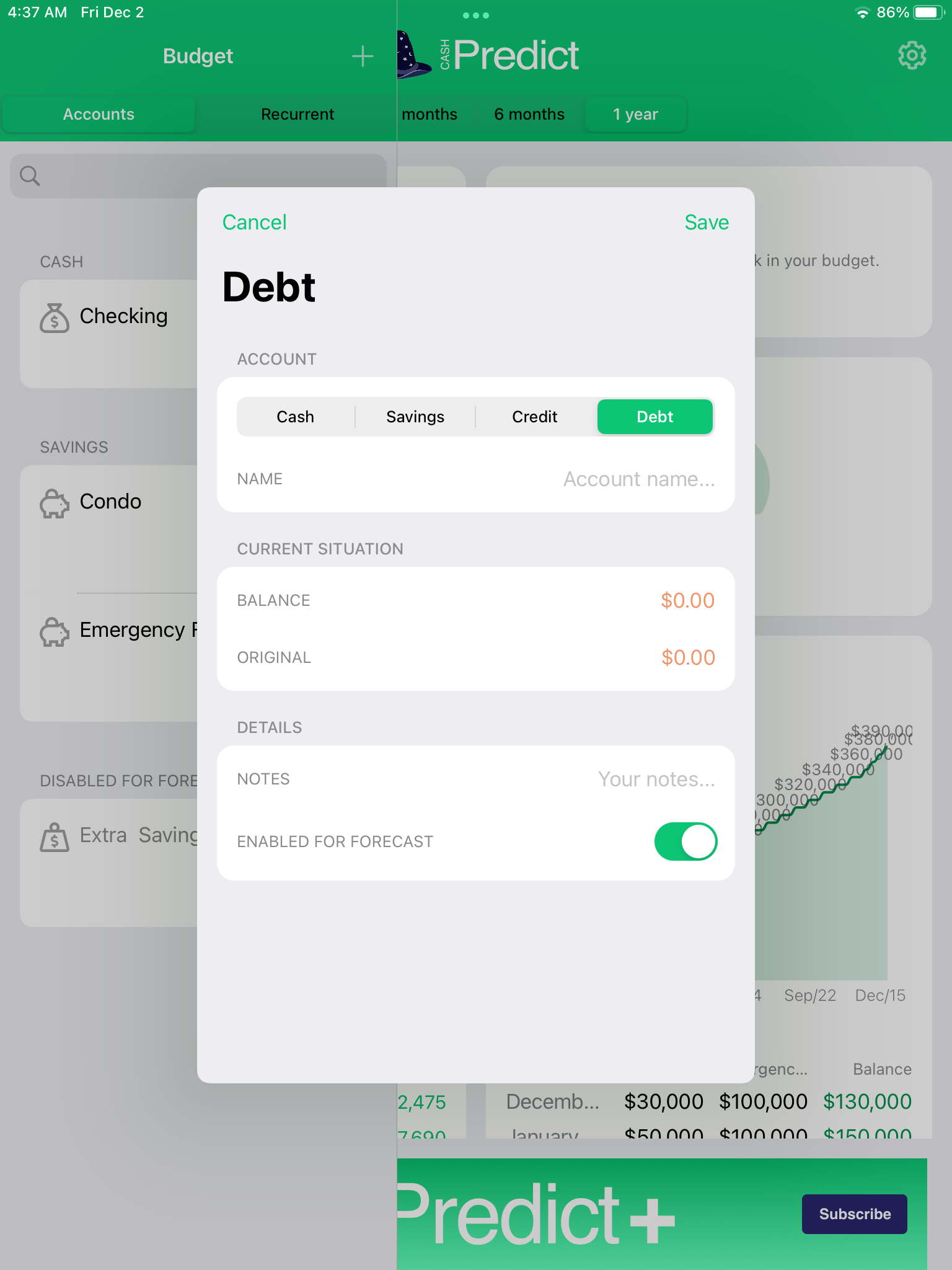 Cash Predict starts with a survey to assess your current state and to make projections
For this overview, we used a lot of numbers for simple math. Some of the requested info included the current amount you have in savings and checking, income, your monthly utilities, recurring credit card payments (you can set up multiple) and any savings goals. Examples of these goals might be a car, condo, house or any other medium to big ticket item. In practice it could be anything.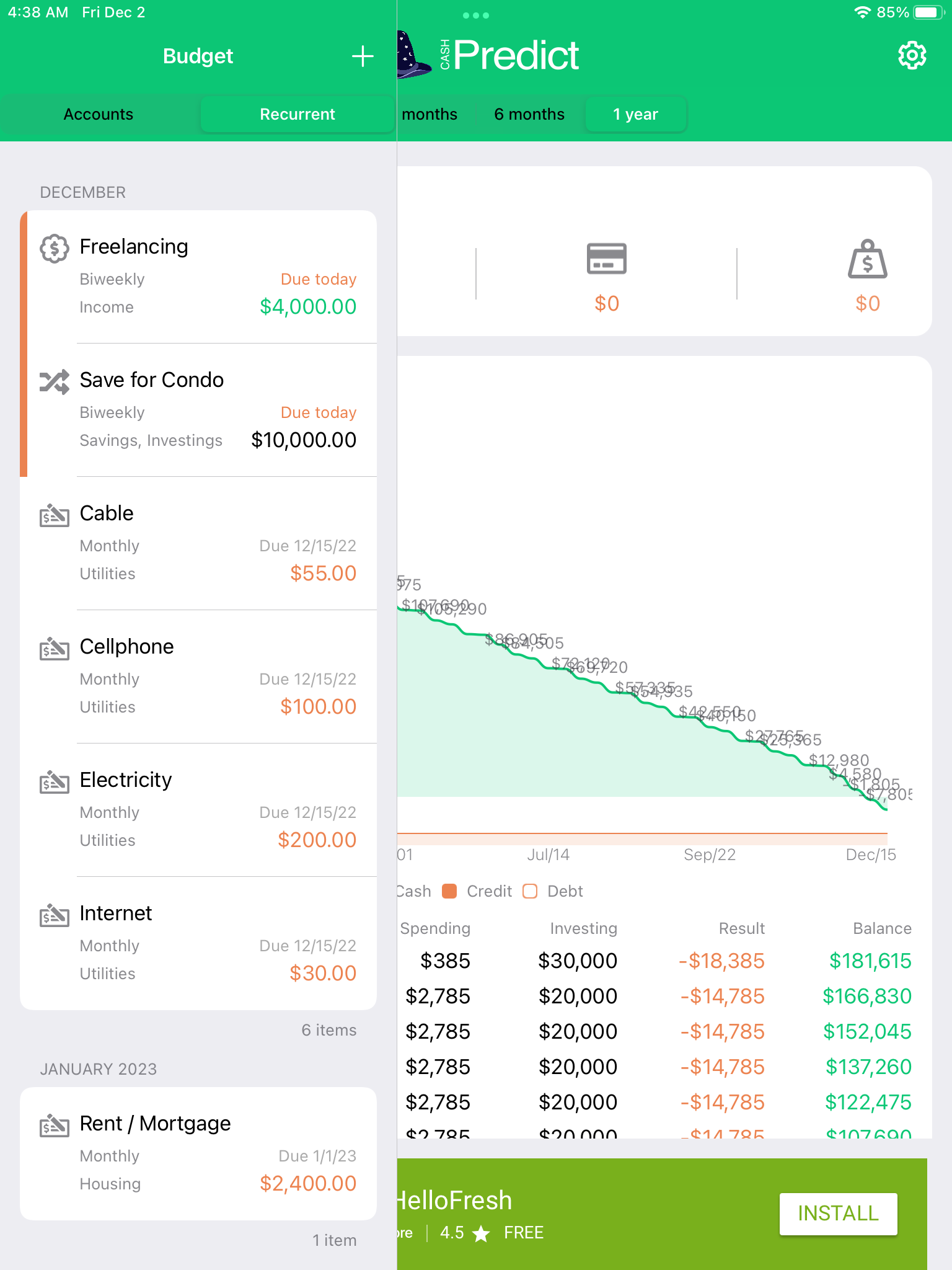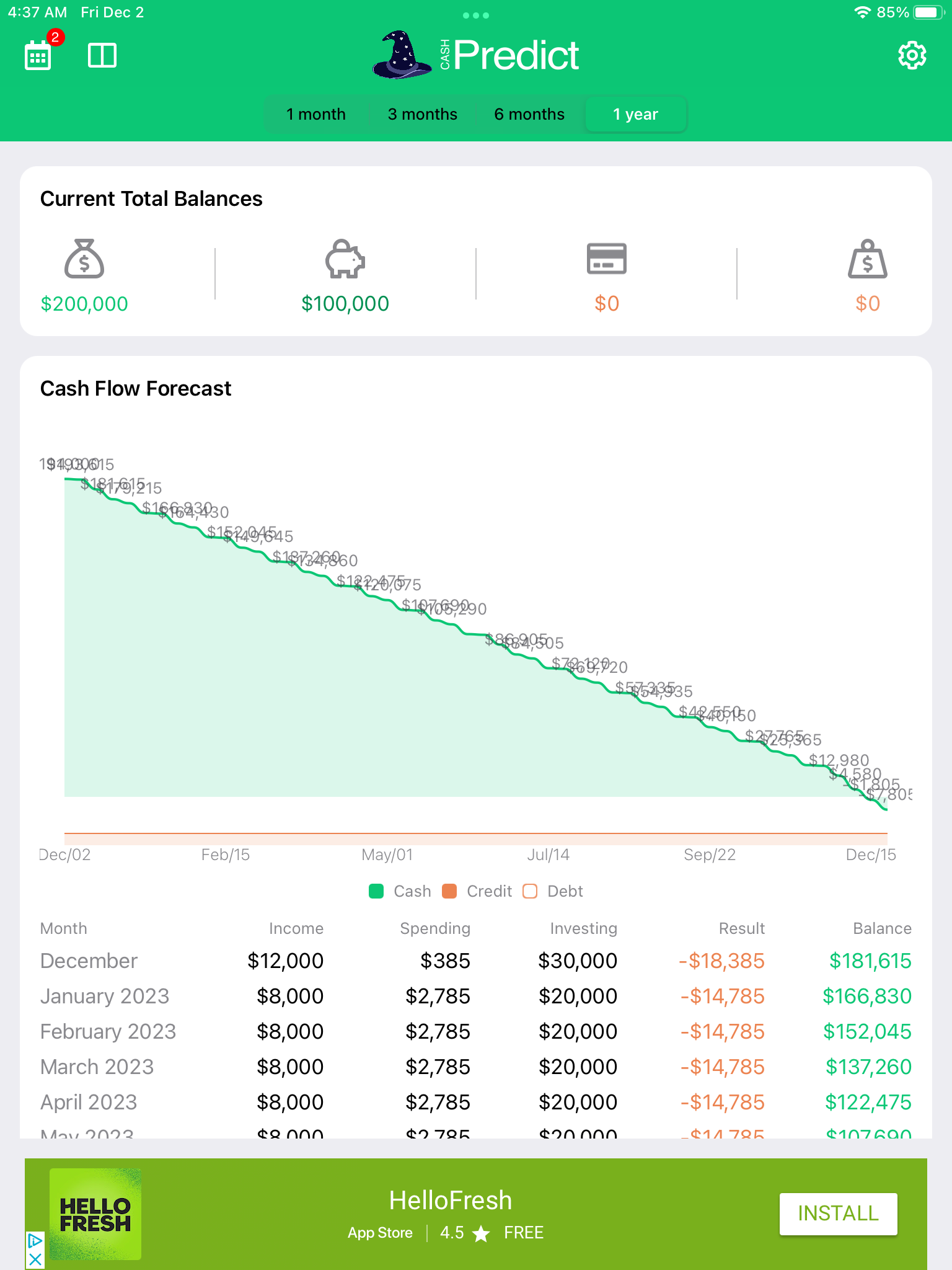 Cash Predict then makes projections and look at recurring expenses
Once you complete this one time survey, the app gets to work and generates a plethora of charts showing your financial projections over the next month, six months or year. Several viewing modes allow you to focus on one specific time period, or use tabs to cycle back and forth so you can make your own assessments and modifications if need be. Data displayed includes an overview of your total balances at the top of the screen (savings, checking, debit and credit usage), your Cash Flow forecast, Projected Balances, Payment Forecast, an Income/Expense report, a display of your goal purchases, a Goal Forecast, Savings Forecast and a pie chart showing your savings/investments, housing and utilities expressed as percentages.
See Also: Stock Predict (Android)
In our case, we said we received $4000 bi-weekly from Freelancing as income. Set our long term goal as a condo purchase, set our utilities as $55/mo for cable, $100/mo for our Cell Phone, $200/mo for electricity, $30/mo for internet and $2400 for rent/mortgage. Again, we "made up" numbers here to test functionality, but we felt these numbers were adequate for big-city living. The charts displayed exactly what we expected.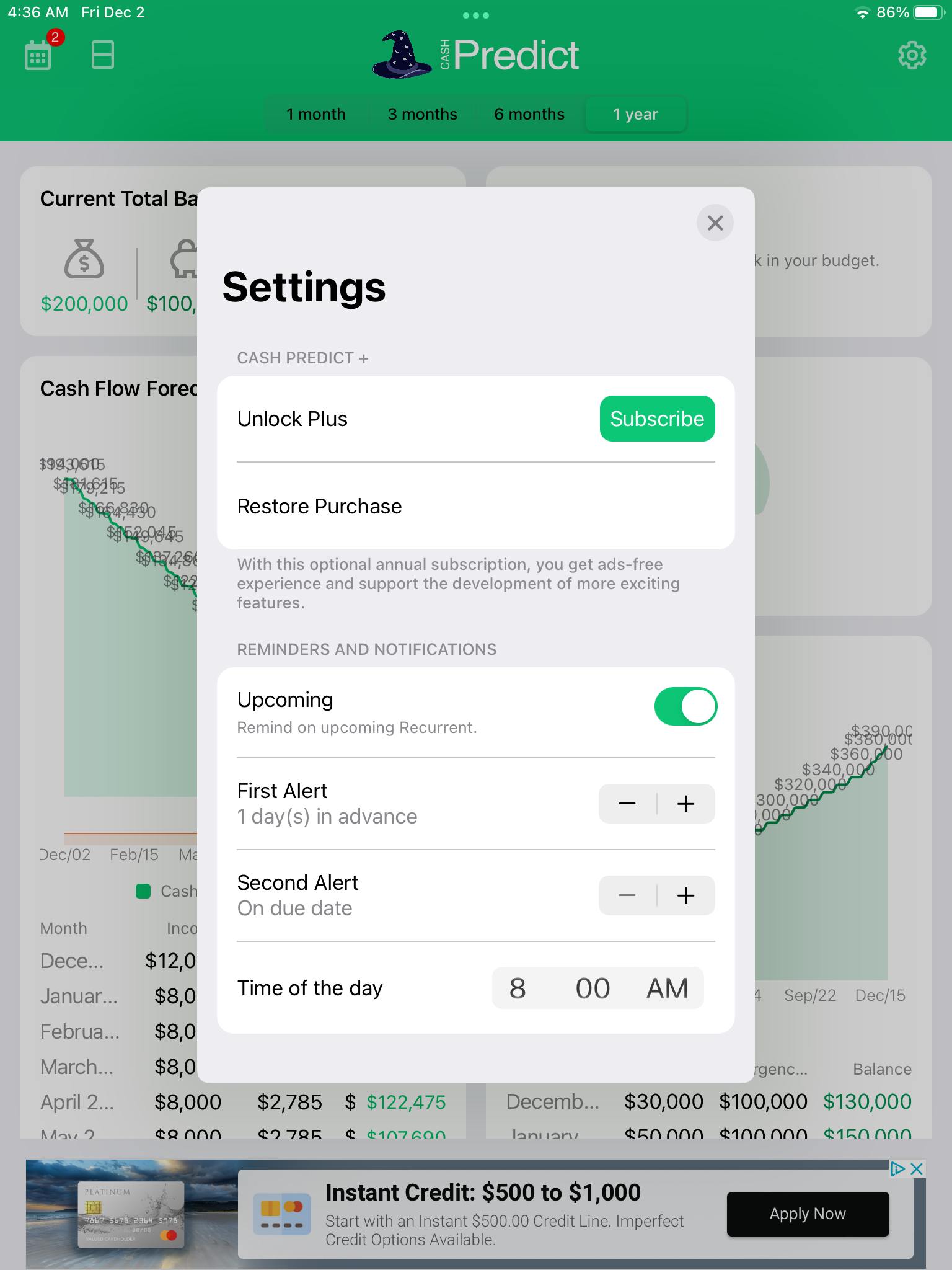 Cash Predict allows for iCloud Sync and notifications to keep you abreast of obligations
We took joy in making changes to the numbers to test for "what-ifs". Changes are as easy as tapping on fields to edit, or adding new data via a plus sign at the top of the screen.
Sell Apps And Keep 100% Of Your Profits!
We had a joy using this app. Cash Predict is no non-nonsense. It's easy to setup, the interface is intuitive and for a hypothetical scenario obsessed individual such as myself, I found that this app has turned a want into a need. There are some things that can be tightened up on the initial survey such as making fields a bit clearer for first-time users, but developer is committed to improving the app. If you are starting a new financial journey or are serious about developing discipline, we say Cash Predict deserves a look! Download it here!
Like This Review? Chat About It And More In Our GiveMeApps Community!