GiveMeApps
Reviews
---
Tracker iPhone/iPad App Review
Jun 7th 2016 at 07:29pm by GiveMeApps
I remember being a kid and watching my mother try to lose weight. This was some 20 years ago. She literally would count calories with a calorie counter. She would only do this for big meals and they were always estimates. What about foods from fast food restaurants? Meals you'd just throw together from the cupboard. If you're really focused on working toward a weight goal, you have to be extremely precise. That's where Tracker for iOS comes in.
See Also: Free Workouts (iOS)
Tracker allows you to track every calorie you take in and every calorie you burn off. After a painless registration process, the home screen makes navigation easy. Four icons on the bottom of the screen lets you get around. The home page lets you track any activity for that day, while the diary icon displays a log of past and future days. The plus icon lets you add exercises, meals, water or weight to today's activity while the favorites and settings icons are self-explanatory.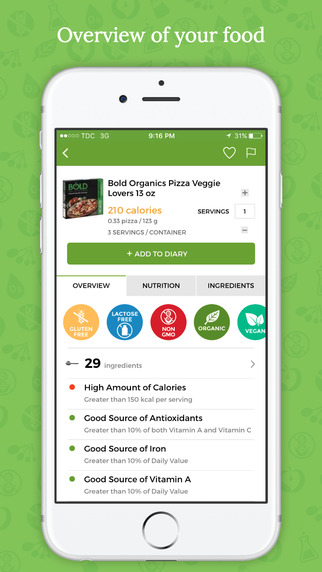 Tracker is A Serious Nutritonal Tool
The home page features water glass icons to show how much water was consumed. You can add water by clicking on one of these glasses. Doing so opens various water amounts using recognizable icons such as water bottles or thermoses. Adding them adds to the water percentage and amount of ounces relative to that day's target. A needle toward the top of this page shows how many calories left are required to reach the said target.
See Also: Daniel Ventura's Cover Model Body (iOS)
The real gem of the app is the ability to add meals. You can add meals down to the ingredients and then specify how many calories, sugar sodium and more were consumed. Using the barcode scanner inputs nutrition information automatically. A picture of the product even shows along with general information that is usually found on the product itself. For example, we scanned a Quaker Oatmeal Box and specified the servings we ate. The amount of calories, sugar and other items were automatically adjusted.
Sell Apps And Keep 100% Of Your Profits
With thousands of meals and food items in their database and the plethora of features available, as long as you are truthful about the information you decide to enter, you can really use this app to pursue weight and health goals. The barcode scanner is what blew us away because of how easy it is to use and how so many items registered and threw in the correct amount of nutrients consumed. An amazing feat. We certainly recommend this for anyone serious about eating healthy and working toward nutritional goals.
Like This Review? Chat About It And More In Our GiveMeApps Community!